NEWS
ParentPay celebrates first graduation of 'Belief' classroom
Nov 21, 2019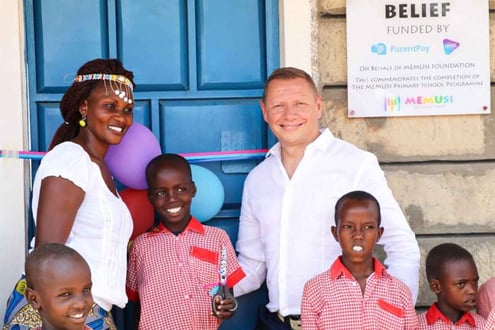 Since 2015 ParentPay has been supporting the Memusi Foundation – a UK founded charity which works to help children in Sub-Saharan Africa escape poverty through education.
Our ParentPay CEO and nimbl founder, Clint Wilson opened a new 'Belief' classroom in Magadi, Kenya back in September 2016. Today, ParentPay celebrates the first Memusi graduation as the initial cohort of pupils have completed their infant/primary education.
'Belief" classroom teacher Anne has been teaching the pupils for the last three years. She is in regular contact with the ParentPay team and shared some wonderful photos from the graduation ceremony.
Clint added: "It's absolutely wonderful to see our first students graduate, having successfully completed their infant/primary education and now graduate to the senior classes at the school. I'm so proud of Anne and everyone who has helped make this happen."
ParentPay is extremely proud to be supporting the Memusi Foundation and to have helped the first cohort of pupils graduate to the senior classes at the school.
---
The Memusi Foundation, founded by Matthew Norton in 2006, believes passionately in education and the right that every person has to a free education.
The first school the Memusi foundation started to work with was Memusi School based in Magadi, Kenya. Back in 2007, this school was just a simple shelter but has since grown to eleven permanent classrooms and on-site houses for nine teachers.
Besides building their own schools as beacons, the foundation invests heavily in Memusi Outreach – a programme that works across the whole of the Magadi region to provide access to quality to all children.
ParentPay has been supporting a Memusi project which has resulted in the building of a new infant/pre-school in the Rift Valley, near Magadi in Kenya.