NEWS
ParentPay CEO named Midlands' Entrepreneur of the Year
Jun 28, 2018
Clint Wilson, CEO of the Coventry-based firm, was named EY Entrepreneur Of The Year™ 2018 overall winner for the Midlands region at an awards dinner in Birmingham.
Wilson scooped a second award at the dinner, topping the Scale-Up category by demonstrating strong growth in revenue, sales, market share, headcount and expansion, helping positively shape the industry.
The double success caps an impressive period of growth for ParentPay that has seen the company double in size and make three acquisitions in the space of a year – WIS, Schoolcomms and Cypad – and take its first steps into Europe.
Now in its 32nd year globally, EY's entrepreneur awards are run in more than 60 countries. The judges, who described Wilson as an 'inspirational individual', noted how the ParentPay cofounder had spotted an opportunity and created a new market.
Clint commented: "It has been an incredible few years for ParentPay and I am absolutely thrilled to have been recognised by such a prestigious award and internationally recognised company, EY.
"Although this is an individual award, I need to thank the incredible team at ParentPay. It is only with their drive, commitment and passion that the businesses' growth has been possible."
Neil Meredith, EY Partner and Entrepreneur of The Year Leader in the Midlands, said: "ParentPay has grown into a dynamic, innovative and inspiring business under Clint's leadership. Having joined the business in 2005, he's shown himself to be a true entrepreneur by growing ParentPay to be the UK's leading online payment service for schools. His business has doubled in size and we are delighted to have him as our Midlands Entrepreneur of The Year in 2018."
ParentPay is the UK's leading provider of school online payment and parental engagement software and serves more than 12,500 schools and 5 million parents. One of the fastest growing tech companies in the UK, last year ParentPay was awarded "Tech Growth Business of the Year" at the UK Tech Awards 2017.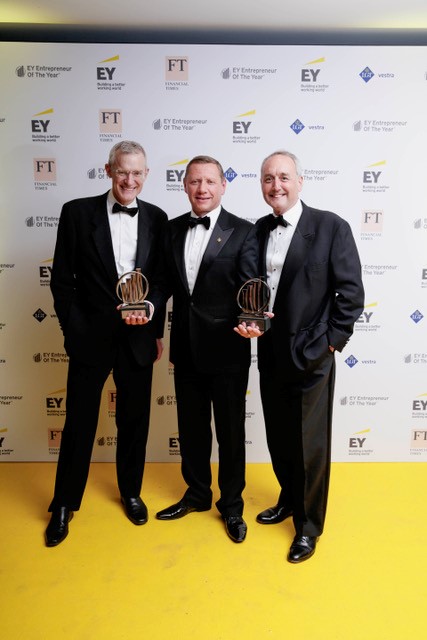 Left to right: Jeremy Vine (Broadcaster), Clint Wilson (ParentPay CEO), Neil Meredith (EY Partner)