NEWS
ParentPay go top of the class for information and payment security
Feb 13, 2020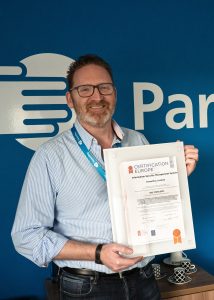 ParentPay is one of a handful of suppliers in the education sector to be awarded ISO 27001:2013 compliance certification by assessors accredited by the UK's National Accreditation Service (UKAS). UKAS has established strict standards and practices to ensure appropriate levels of quality and independence.
Matt Jones, Chief Operating Officer at ParentPay commented:
"We're extremely pleased with this certification. In my opinion, all school suppliers should adhere to the highest information security standards. It's concerning to think that so many suppliers have not sought assessment by UKAS accredited assessors."
ParentPay has now been certified at the highest level for both Information Security (ISO 27001:2013) and Card Payments Security (PCI Level 1).
Matt added: "Data and payment security is something you need constant eyes on and we have a dedicated, highly experienced security team who have been continually embedding best practice across our organisation."
Find out more about ISO 27001:2013 or PCI DSS here.