NEWS
ParentPay ranked in 'Sunday Times BDO Profit Track 100'
Apr 04, 2019
ParentPay announced this week that it has been ranked in the prestigious 'Sunday Times BDO Profit Track 100' league table.
The 20th anniversary edition of the 'Sunday Times BDO Profit Track 100' ranks Britain's private companies with the fastest-growing profits.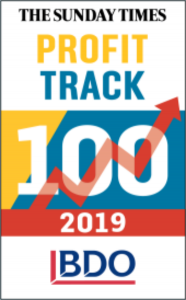 ParentPay was included because of strong year on year profit increases – growing by an average of 65% a year to 2018.
ParentPay Group CEO, Clint Wilson, was delighted with the announcement:
"We've worked tirelessly to ensure that schools enjoy a best-in-class service from ParentPay, helping millions of parents pay their school securely and conveniently. Our year-on-year growth is testament to the commitment of our team and the loyalty of thousands of schools that benefit from significant improvements in efficiency."
The latest table published in The Sunday Times Business section on April 7th sees ParentPay ranked at position 69.
Clint added: "It's a great honour to be recognised in the 'Sunday Times BDO Profit Track 100', following in the footsteps of some of the UK's most successful and prestigious brands, including Dyson and Aston Martin.
Our significant investment will ensure continued future success for the ParentPay Group and our customers."
Read the 'Sunday Times BDO Profit Track 100' here